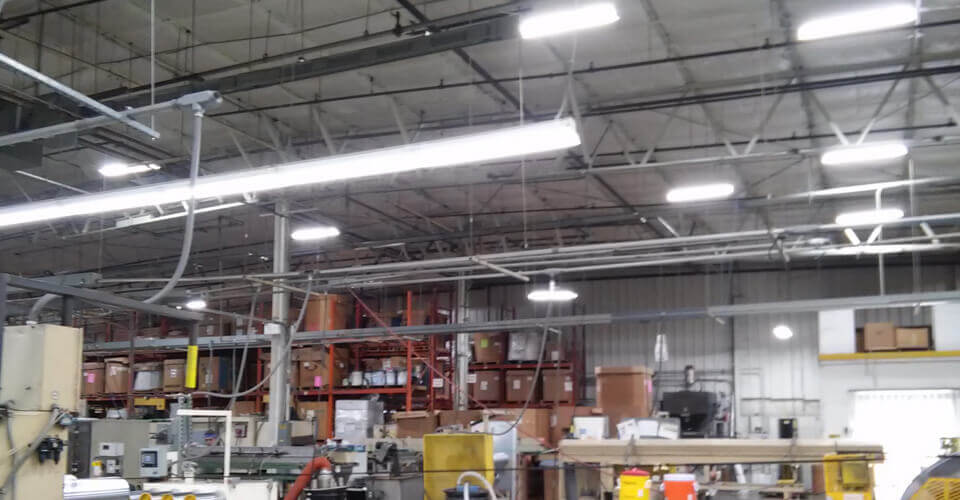 Green Light National's High Efficiency LED Lighting provided Monahan Filaments with a payback of 21 months and a Return on Investment of 57%!
"The new lights made a huge difference for the entire plant. There are far less shadows, the employees liked it, and it really helped with our Lean Manufacturing 5S Protocol. In addition, the installation crew was amazing. They worked around our production lines with minimal disruption.""
— Matt Walker, Production Plant Manager
BENEFITS
Monahan Filaments is a leading manufacturer of synthetic and natural fibers, with very strict process, procedure, and incredibly high-quality standards. To maximize the Comprehensive Return On Investment©, Green Light National proposed a combination of new fixtures, as well as retrofitting older fixtures, all with LED. Maintenance was eliminated for 10 years and electrical consumption significantly reduced.
Over the years, production lines had moved, causing shadowing. The Green Light National installation Team was able to move the necessary fixtures with minimal additional expense, to improve production line lighting. Employee comfort was improved by removing a significant amount of heat generated by the older lighting system. In addition, the Lighting Experts at Green Light National put together specifications giving consideration for Bio-Centric Lighting©, to improve employee productivity, health and well-being, at no additional expense.
Click here to download a PDF of the case study.
| Savings Overview | |
| --- | --- |
| Annual Energy Savings | $20,000 |
| Payback | 24 months |
| ROI | 51% |
| Reduce Maintenance | $8,200 |
READY TO TAKE CONTROL OF YOUR ENERGY COSTS?
It's easier than you think, click the button below to request a free lighting assessment, the only thing it will cost you is a minute or two and you can save thousands. Start saving today!